---
Move Out Info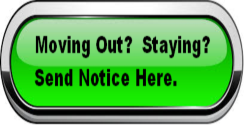 You lease contains specific information about your leasing responsibilities including fulfilling your lease, security deposit refunds, and giving "proper notice." You should consult your lease for detailed information. Here are some helpful tips.
Clean the apartment and do not leave anything in the unit.
Clean all kitchen appliances, cabinets, draws.
Clean all bathtubs, toilets, and sinks.
Empty the dishwasher and refrigerator and clean.
Wipe all baseboards and fans clean if they are dirty and dusty.
Place all trash in the proper trash containers and set to curb for city pickup.
Do not leave any furniture are other non-containerized refuges on the exterior of the property or curbside. Take it with you or you will be charged for disposal.
Don't leave any furniture for the new tenant. You will be charged for removal. The apartment must be empty and clean.
Bring all sets of keys to our office on or before 10:00 AM on the last day of the lease term or sooner with the apartment address attached to the keys and a forwarding address for the refund. Once you are out of the unit and keys returned we will inspect the unit and process your security deposit refund.
Security deposit refunds are processed within 30 days of the lease termination date and the return of all keys. All refunds are returned through U.S. Mail and are not retrievable at our office. Be sure to include a forwarding address for your refund to be mailed to.